Signs & Plaques
Gallery 19A - Apartment ,Condominium, and Townhome Unit Number and Building Number Signs
Office, Unit Number, Map , Rules, Directional, Building, Swimming Pool, Street, Parking Signs, and No Soliciting Signs
Welcome to our photo Gallery 19A which shows smaller signs for apartments, condominiums, townhomes, HOAs, subdivisions, manufactured and mobile home parks, and other residential community signs. The photos on this page, Gallery 19A, show a wide variety of unit number, management office, building name, street name, directional, wayfinding, property map, rules, parking/no parking, swimming pool, tennis court, and gym signs. Please click on Gallery 19 to see large (4 ft to 16 ft wide) entrance and monument signs for these communities.. We have made signs for over 100 residential community complexes across the US; it is one of our main areas of concentration.
Other photo Galleries can be visited by clicking on numbered gray boxes in the lower left margin on this page. If you have just entered our website and you want an overview of our company and all our products, please see our Home page (upper left dark gray tab in the header at the top of this page).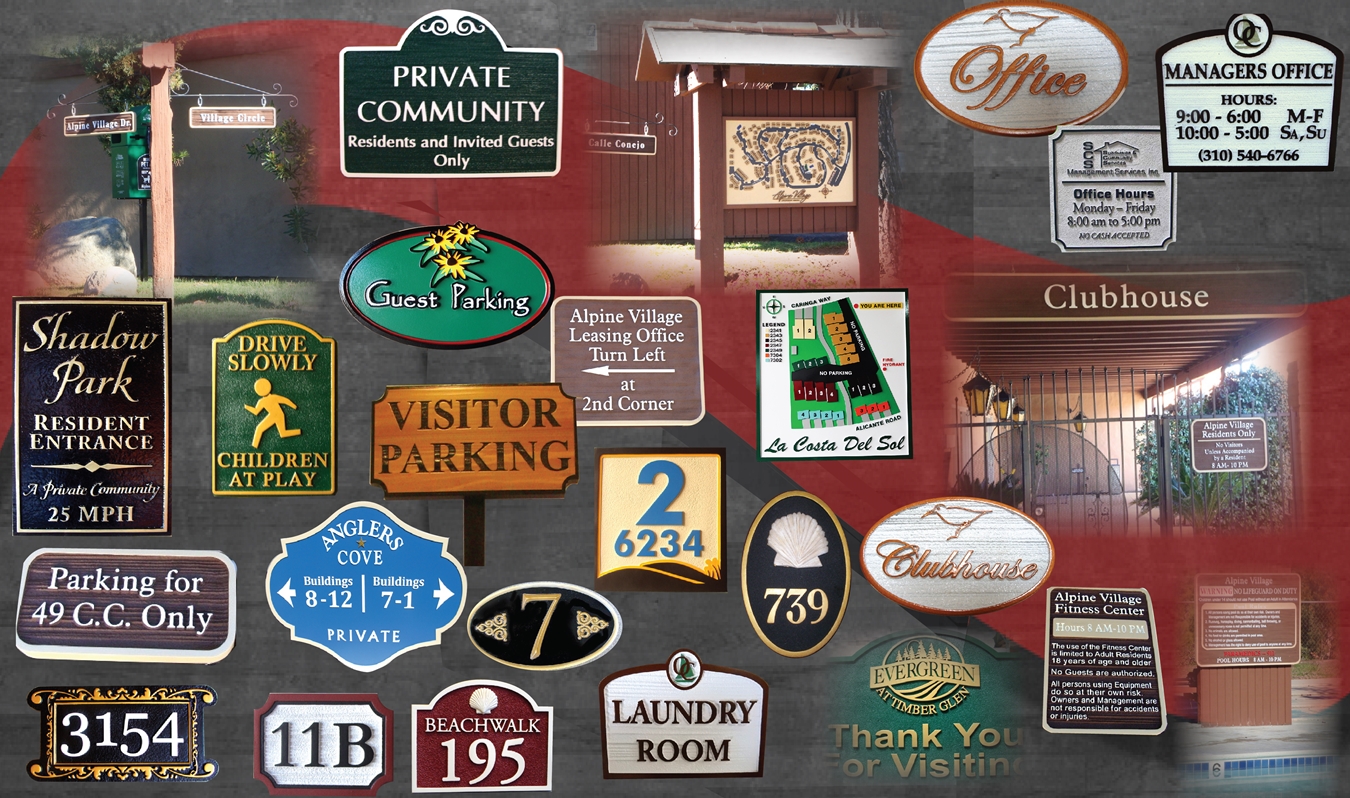 Some examples of our custom dimensional office, wayfinding, street. parking, map and unit number signs for apartments, condos and other residential communities
In this Gallery 19A, we show over 200 custom carved 2.5-D, 3-D and engraved dimensional signs. These can be fabricated from ultra High-Density-Urethane (HDU), or wood (cedar, redwood), or metal-coated HDU (brass, bronze, copper, silver-nickel stainless steel,and aluminum), or Color-Core High-Density-Polyethylene (HDPE). We also sell wrought iron, aluminum, and wood posts, and wrought iron scroll brackets to mount these signs on. They can also be mounted on building walls, gates, and dividing walls.
PRICES. Our custom designed smaller signs, 18 inches to 24 inches wide, have retail prices that range $99 to $200+. Larger custom signs, such as property map or rule signs, cost more. We offer substantial discounts on a large number of signs, such as unit number plaques. These typically have prices from $15 to $30 each for carved or engraved HDU signs, depending on size and complexity, assuming a large number are ordered at one time. More complex wood signs with standoff metal letters or numbers can cost $50 or more. Our sign prices depend primarily on sign area but also on sign material (e.g.,HDPE, HDU, Cedar, Redwood, Mahogany, metal-coated), design detail and complexity (e.g., 3-D vs 2.5-D), and any special features (e.g., steel reinforcements and frames, gold-leaf, 3D appliques, etc.). More detailed information on sign retail prices, along with their design features, are described on the Price, Size, and Design Features page. Please call or email us for a price quote on specific signs.
CONTACT US. Please call or email us for a price quote on a specific sign. We will work with you to design and build the exact sign you want. Our knowledgeable and helpful Customer Service Representatives, Christie and Regina, will respond to your request promptly. Call us at 951-698-8484 or email us at info@artsignworks.com,or you can fill out and submit our on-line Request an Estimate Form. We would like very much to make your sign, and we are confident that you will be pleased with your beautiful and long-lasting sign. We take great pride in every product we make for our valued clients. We offer a 2 year warranty on all our signs & plaques in any climate. Please contact us today so we can get your sign design initiated.
GALLERY CONTENTS. On this page, Gallery 19A, we show all types of signs for residential communities, excluding entrance and monument signs, which are shown in Gallery 19. These are organized and listed in the following categories (top of page to bottom):
 Management Office, Leasing and Building Signs,including Laundry, Clubhouse, Way-finding, and Directional signs

 Internal Street Signs and Signposts

 Parking, No Parking, and Reserved Parking Signs

 Rules, Private Areas, and No Soliciting Signs

 Property Map Signs

 Swimming Pool and Fitness Center Signs

 Residence Unit and Address Number Plaques
We also make signs for residential communities which are shown in other Gallery pages (click on numbered gray boxes in lower left margin, or click on link), including:
More elaborate and larger individual home address number plaques are shown in Gallery 18 (single family homes), Gallery 20 (seashore and beach homes), Gallery 21 (lake and mountain homes), and Gallery 23 (ranches and farms). These Gallery photos can be viewed by clicking on the numbered text in the light gray boxes in the lower left margin.
NAVIGATION. Please click on a Photo below to enlarge it and get more details. To return to the page you were on, click on your back browser button. To go to a different page in the Galleries, click on a numbered light gray box in the lower left margin. Other web pages can be visited by clicking on dark gray tabs at the top of this page (our Home page is on the left tab) or the gray boxes in the upper left margin (request an estimate, order form, etc).