Welcome to Art Sign Works
CUSTOM CARVED AND DIMENSIONAL SIGNS AND PLAQUES
We Manufacture and Sell  both RETAIL and WHOLESALE Custom Dimensional Carved Wood, High-Density Urethane (HDU), and Bronze & Brass Signs & Plaques; Wrought Iron Hangers & Posts; and Integrated Monument Signs.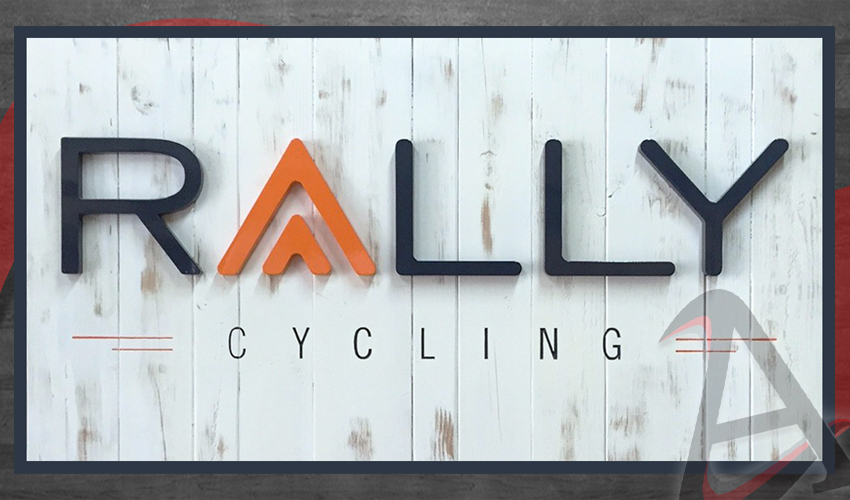 Sign of the Month -Rally Cycling Sign, Distressed Wood Panel Backing w/ Engraved Sub-Text and 1" Thick HDU Main Letters
We sell at factory-direct retail prices to individuals, residences, farms and ranches, professional offices, businesses, government, military, and other organizations, and we sell at wholesale prices to sign shops and other resellers.

Whether you're looking for a simple residence sign or plaque, or much larger and complex signs for your business or office, we can handle projects of any size.

Creativity, excellent craftsmanship, professionalism, attention to detail, outstanding customer service, and affordable prices are what you can expect when you work with us. If you can't find exactly what you're looking for in our extensive product photo galleries of over 7000 signs , call us at 951-698-8484 M-Fr 9:00 AM until 5:00 PM Pacific Time , or email us at info@artsignworks.com, and we'll do everything in our power to design and build you what you need.
Please click on any of the banners below to see our various sign and plaque product types. For specific sign applications (e.g. lawyer sign, farm sign, city entrance sign), please visit some of our 45 Photo Galleries, which are listed by a numbered title in light gray boxes in left margin; you can click on the Title to go to that Gallery. There are 100 to 250 sign designs in each Gallery.
Can't find anyone to make your custom dimensional wood, hdu, or metal sign or plaque the way you want it made? Do you need some design ideas? We will work with you to design and build the custom sign or plaque you want at an economical price . We offer a rare combination of creativity, quality and value, have a very wide variety of sign designs and sizes, and take pride in every beautiful and unique product we build. We offer a 3 yr warranty for every sign or plaque in any climate, and use special proprietary coatings to make our signs robust, long lasting, and low maintenance.
FIND A SIGN IN THE PHOTO GALLERIES. We have over 6000 sign designs shown on this site, methodically organized into 45 photo Galleries each corresponding to a sign type (i.e, lawyer sign or beachhouse sign, etc). Photo Galleries are listed by a numbered title in light gray boxes in left margin; click on the Title to go to that Gallery. For a more detailed description of our 45 Photo Galleries, click on Sign Photo Gallery Overview and Search.

Alternatively, to find a specific type of sign, such as "Oak leaf address sign", or "sign with Skiier on it" , or "red wooden stop sign", or "lawyer directory sign" or "B&B sign", or "sea horse beach sign", please enter these key words in the box on the top right of this page with "Google" in it and the search engine will give you examples of signs on this site, which you can click on to go to the referenced page. Please refer to the sign letter and number when inquiring about a sign design/size/price.

Spend a few minutes visiting the relevant Galleries and you may find designs you will like, or we will create a new custom design for you. We can also duplicate existing signs; send us a photo or drawing. We design and make our signs & wall plaques for residences, vacation homes such as beach houses & mountain/lake cabins, farms & ranches, town & community entrances, law/medical/dental/vet offices, businesses and companies of all types, restaurants and pubs, parks, schools & colleges, churches, and social and fraternal organizations.

For our most popular residential signs, click on Gallery 18- residential address and property name signs, Gallery 20- seashore/beach signs, Gallery 21 - lake/mountain signs, or Gallery 23 - ranch & farm signs.
if you are a Government or military customer, please click on Government Products for an index of our carved wood and metal-coated 3D wall plaques and signs designed for the Army, Navy, Air Force, Marine Corps, and Coast Guard; Federal, state & city/county governments (including police and firefighters), shown in Galleries 30 through 33.
Please call us at 951-698-8484 or EMAIL us at info@artsignworks.com for additional information without any obligation. We welcome casual and information-only inquiries and will give you a fast "no hassle" response. We are the "friendly signmakers" and take great pride in providing information and helping our customers solve their signage needs. Our customer service is outstanding; every customer is important to us.
Click on blue text below to see the Gallery page for that Product line):
Product Line 1 - Sandblasted HDU Signs & Plaques
Product Line 2 - Premium Carved 3D Bas-Relief HDU Signs & Plaques
Product Line 3 - Carved and Sandblasted Wooden Signs & Plaques
Product Line 4 - Wrought Iron Hangers & Stands
Product Line 5 - Large Signs
Product Line 6 - Monument Signs, Bases and Pillars/Posts
Product Line 7 - Metal Wall Plaques & Signs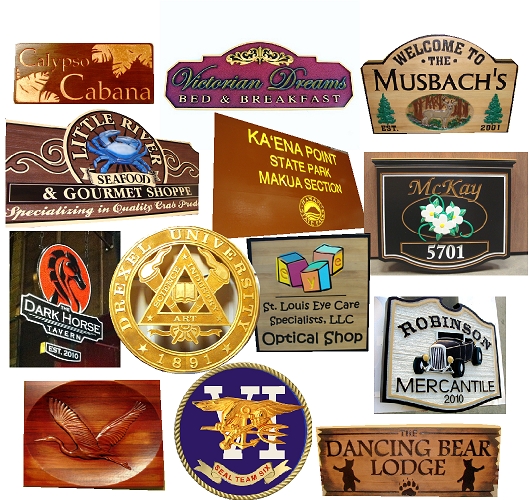 A Few of Our Recent Signs & Plaques
WE HAVE A WIDE RANGE OF UNIQUE CUSTOM DESIGNS AND WE USE ONLY PREMIUM MATERIALS. ALL OF OUR SIGNS AND MATERIALS ARE MADE IN THE USA.. We create beautiful, attractive and unique Three dimensional (3D) carved and 2.5 sandblasted signs, with letters & art elevated (raised and bas-relief) or engraved (e.g., incised, bas-relief recessed, V-carved) into the sign. Our signs range from very simple, inexpensive sandblasted or routed text signs to more expensive signs with complex art, construction, and high-end materials. We make our signs and plaque substrates from wood (Redwood, Cedar, Mahogany, Maple, Cherry, Oak , and vintage barnwood); synthetic wood equivalents and plastics (i.e., 20 lb/ft3 and 30 lb/ft3 premium Precision Board High Density Urethane (HDU) ,acrylic, PVC, glass, and Extended Polystyrene/EPS); and metals (aluminum, steel).
We use advanced computerized design, computer-controlled carving, routing and cutting ,3D bas-relief carving, computer-controlled laser engraving and water jet cutting (for metal); hand-carving; multi-level sandblasting; polishing and burnishing; and cut-out and stand-off letters & art appliques to achieve 3D effects. We make dimensional and carved plaques and signs which are then hand-painted with colorful long-lasting UV-resistant enamels, and/or stained and clear-coated (wood only), and/or gold- or silver leaf gilded, and/or metal coated (bronze, brass, copper, silver-nickel, stainless steel, antique iron). We can also add a digitally-printed vinyl applique for photos or detailed art onto a carved sign. We have a unique capability for combining various artistic techniques, manufacturing technologies, and materials into a single sign that will last for many years in any climate.
We make indoor and outdoor dimensional signs and plaques for both residences, businesses, government organizations and non-profit groups (such as churches) in sizes from 6 inches to 20 feet wide. We have a wide variety of designs; we can make almost any design, any shape, any font style, any color scheme, any logo/ emblem/ art, and we design and build custom carved 3D bas-relief designs that most sign shops cannot or will not make. Our craftsmen are the best, and we guarantee customer satisfaction on every sign or plaque. We have a 3 year warranty on every sign or plaque.
We also offer wrought iron hangers and scroll brackets, wood and metal posts, and monument sign rock & brick and Extended Polystyrene EPS foam bases & pillars. We design & integrate signs, and install signs in Southern California. We can also arrange for a local contractor to install our signs anywhere in the USA or Canada.
We can modify any design shown in the Galleries, replicate an existing sign from a photo, develop a completely new custom design for you, work collaborately with you to develop your own design, or build- to-print an already completed design. We offer a very wide range of styles including formal, ornate, elegant, bold, commercial, stylized, whimsical, and rustic/western. Much of our business is one or few of a kind signs or plaques for residences and businesses, but we also do large production jobs, up to thousands of similar signs or plaques for apartments, residential communities, hotels, golf courses and retail chains, and we sell our products wholesale to over 300 sign retailers, including sign shops, designers, contractors, and brokers (see Wholesale to Sign Retailers).
SIGN PRICES. We give great value for your money.We offer factory direct-to-you prices. We use the latest computer technology combined with old-world hand-craftmanship to reduce our costs, passing cost savings on to you. We price primarily by the area of the sign or plaque, but also by complexity and detail. HDU signs are generally less expensive than Cedar or Redwood signs. Our wood and HDU signs and plaques cost from 60% to 90% compared to those of similar signs from most other sign shops and suppliers, including on-line companies. Our wholesale prices are about 30% to 35% lower than our retail prices. Sign retail prices, along with their design features, are described on the Price, Size, and Design Features page, and Wholesale prices are given on the Wholesale to Sign Retailers page. We ship our products by UPS throughout the USA and Canada. We also ship selected orders to other countries overseas , including US military bases, and ship to APO addresses.