Signs & Plaques
Gallery 15 - City, Town & Village Entrance Signs, and Building Signs
Welcome, Entrance, and Building Signs for Counties, Cities and Villages. Also Museum and Historical Building Outdoor and Indoor Signs & Plaques
Welcome to our photo Gallery showing designs and examples of welcome, entrance, way-finding,  building identification, and interior signs for county, city and village governments. We specialize in colorful and beautiful carved wood entrance signs for communities of all sizes, including counties, cities, towns, and  village signs. These can be either post-and-panel or monument signs.Their styles range from modern  stylistic to classical New England to vintage wood to Western rustic. 
Federal, military, state and local government seal wall plaques are shown in photo Galleries 30, 31, 32, and 33,respectively (click on underlined blue number to visit that Gallery).. Community park and garden signs are in photo Gallery 16A and Swimming Pool and Tennis signs are in gallery 16B. If you have just entered our website and you want an overview of our company and all our products, please start with our Home page using the dark gray tab on the upper left header. Other photo Galleries can be visited by clicking on the numbered gray boxes in the lower left margin on this page.
City, Town and Village Entrance and Welcome Signs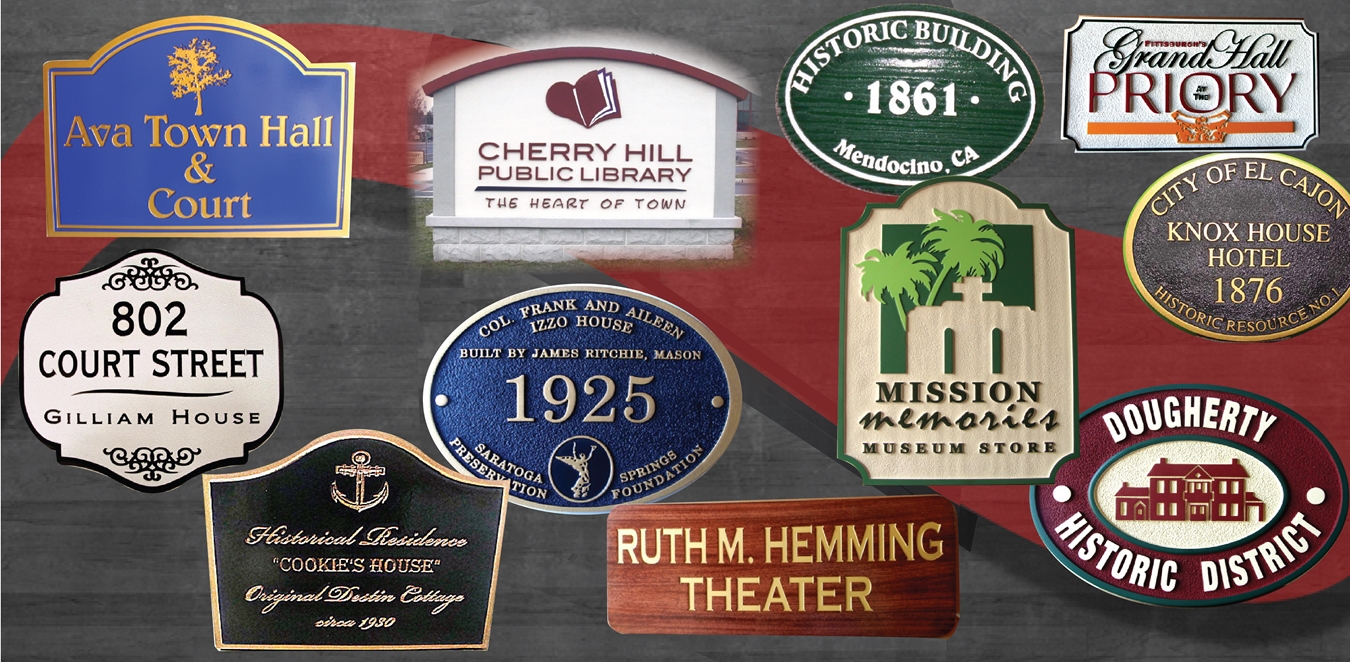 A Few of Our Municipal Building, Historical Building, and Museum Signs & Plaques
In this photo Gallery 15 are displayed over 100 examples of designs for carved and sandblasted dimensional signs for county, city and village  entrance roads, monuments, way-finding, and public buildings. We offer a variety of designs and we make hundreds of custom signs and plaques each year for cities, towns and villages. We offer custom carved 2.5-D, 3-D and engraved dimensional signs and plaques. These are fabricated from High-Density-Urethane (HDU) wood composite; extremely tough engraved High-density Color-Core Polyethelene (HDPE); wood (cedar, redwood, mahogany, oak, maple, cherry; metal-coated HDU (brass, bronze, copper, silver-nickel, stainless steel, and aluminum; and gold- and silver-leaf gilded HDU.
Text, numbers, logos, art and borders can be higher than the background or engraved (carved into it), or both. Styles range from the formal to elegant to contemporary to rustic. All of our HDU signs are made of heavy-duty  20 lb/ft3 High-Density-Urethane and have a protective coating to extend lifetime and ruggedness. Our extremely tough and durable HDPE signs are ideal for parks, playgrounds and other public facilities where wear-and-tear or graffitti could be a problem. These dimensional signs will last as long as cast aluminum. We can make a single sign to match existing signs, or a complete set of signs for a complex which has the same style, color scheme and logo for all signs. We will design custom signs for you at no cost. We also make wood, aluminum and wrought iron posts, finials, scroll brackets, and sign frames. Please reference the ID number (e.g. F15009) if you want your sign to be similar to one or more signs shown in the Galleries. If you can't find signs or plaque designs you want in this Gallery, we will design them for you for free. We will work with you to design and build the exact custom signs or plaques you want.
PRICES. Our custom designed smaller HDU single-faced HDU or wood signs, 18 inches to 24 inches wide, have retail prices that range from $99 to $250+. Medium size single-face HDU or wood signs, from 24 inches to 48 inches wide, have retail prices from $250 to $800 and up. Large entrance HDU or wood signs, from 48 inches to 96 inches wide, have retail prices from $700 to $1800 and up. Our Color HDPE signs are about half the above prices. Our sign prices depend primarily on material type (e.g, HDU. HDPE, Wood, etc,) sign area, whether they are single or double-faced, their design detail and complexity (e.g., number of paint colors and amount of hand-painting, and any special features (e.g., steel reinforcements and frames, overlays, gold leaf, etc.). These prices do not include posts or support structures, which we sell separately. More detailed information on sign retail prices, along with their design features, are described on the Price, Size, and Design Features page.
CONTACT US. Please call or email us for a price quote on a specific sign. We will work with you to design and build the exact sign or plaque you want. Our knowledgeable and helpful Customer Service Representatives, Christie and Regina, will respond to your request promptly. Call us at 951-698-8484 or email us at info@artsignworks.com. Or, you can fill out and submit our on-line Request an Estimate Form. We would like very much to make your sign or plaque, and we are confident that you will be pleased with it. We take great pride in every product we make for our valued clients. We offer a 2 year warranty on all our products.
The photos on this page show examples of both indoor and outdoor signs and plaques we have made for cities, municipalities, and museums and historical buildings. Most of these are made of High-Density-Urethane(HDU,) but a few are made of Cedar, Redwood and Oak. We make city entrance signs, building markers and plaques, street signs, informational signs and maps, and interior building wayfinding, restroom, and office door signs.
Please call us at 951-698-8484 or EMAIL us at info@ArtSignWorks.com for specific price quotes , design options., and delivery schedules.
To return to the page you were on, click on your back browser button. To go to a different page in the Galleries, click on a numbered gray box in the lower left margin. Other web pages can be visited by clicking on the dark gray tabs at the top of this page or the light gray boxes in the upper left margin.