App. Gallery 30 - Federal Government Wall Plaques
Federal Government Carved 3D Wood, HDU & Metal Wall Plaques (Great seals, logos, emblems, flags, badges, personalized recognition awards), for all branches, departments, agencies, administrations & bureaus

Carved 3D High-Denity Urethane (HDU), Metal-Coated (Polished Brass with Darkened Patina) HDU, and Carved 3D Oak Wood Plaques
Welcome to our photo gallery of our custom, personalized and standard US Federal Government wall plaques. If you have just entered our website and you want an overview of our company and all our products, please start with our Home page (dark gray tab upper left). Other pages, including other Galleries, can be visited by clicking on numbered light gray boxes in the left margin.These include military plaques and signs (Gallery 31), State plaques (Gallery 32), and local Government (including police & fire) plaques and signs(Gallery 33) Please click on a Photo below to enlarge it and get more details. .Please move the slider on the scroll bar on the right edge of this window to see enlarged photos and a more detailed description of design options and price at the bottom of this page.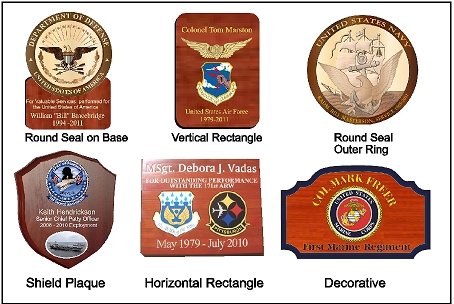 Six Designs for Plaques that Allow Personalization (Text, Photos) for Individuals or Organizations
The photos and designs on this page show examples of organizational identity, commemorative, recognition, memorial, and award wall plaques and seals for civilian US Federal Government organizations and employees. Several versions of wall plaques with the US Great Seal (Great Seal of America), and emblems, seals, insignia and logos for executive, legislative, judicial branches, cabinet departments and civilian agencies and bureaus are shown above on this page
.Photos and designs of plaques are listed in the following order:
1.Styles and Color Selections for all Wall Plaques (first row)
2 US Great Seal (Great Seal of America) and Flag
3 Great Seals and Coats-of-Arms of Countries other than the USA
4 Executive Branch Seal Plaques (President, VP, White House Staff)
5 Senate & House of Representative Seal Plaques
6 Federal Court Seal Plaques (Supreme Court, Circuit Courts of Appeals)
7 Cabinet Department Seal Plaques (includes Homeland Security)
8. Executive Branch Agency Plaques (includes civilian bureaus, offices, administrations, and agencies such as FBI, CIA, DEA, NPS, NASA, BLM, USFS,etc)
US military plaques and signs are shown in Gallery 31, State Government seals in Gallery 32, and County & City Government plaques & signs in Gallery 33.
The photos above on this page show many examples of organizational identity, commemorative, recognition, memorial, and award wall plaques and seals for both organizations and individuals.Are you searching for (A) a custom carved wood sign or plaque that is suitable for an organizational seal, insignia or logo (e.g., a sign in the front of a base entrance or building, on the wall of a lobby, a hallway, a conference room, auditorium, office, or on the front of a podium), which are represented by most of the photos in the Gallery below, or (B) an award, a gift or present to be given at a special event such as a special assignment or organization accomplishment/citation, a promotion, retirement party, memorial, graduation, honors or recognition meeting, or other special occasion?
Traditionally, for (B), these accomplishments have been recognized with a small trophy or an engraved brass plate on a wood plaque, or a paper certificate, but these are small and hard to read,and they all look the same. We offer a better solution, which often costs less than a "cookie-cutter" brass plaque. Every one of our carved wood (mahogany, cherry, maple or oak) or HDU signs and plaques is custom designed and can be personalized, and we will work with you to modify an existing design or create a new design for you.Six of our popular designs are shown in the figure at the top of the page, and there are several other examples of personalized plaques distributed in the gallery photos above. We specialize on in making Government and Military Seal or Logo Wall Plaques carved in wood or HDU. These can be customized and personalized by adding names, citations, dates, and photos, etc as desired.
We will design you a custom and personalized sign or plaque for free if you purchase the sign or plaque, except for complex 3D art which we do not have in stock.. Refer to ID numbers (e.g. U30147) if you want your sign to be similar to one or more signs shown in the galleries. A variety of existing 3D carved art icons are shown above; of course, we will design and make any custom or personalized (e.g., name, rank, dates, citation) design in addition to these. For carved seals or emblems, our custom "2.5D " designs generally have multiple layers , each of which has a flat top surface but are elevated at different levels (often referred to as flat relief).. These are about 10-30% less expensive that true 3D custom designs, which have rounded bas-relief front surfaces (continuous curvature like a sculpture) .The 3D carved design appliques at the bottom of the page are "off-the-shelf" designs and are not considered custom; any of these plus many others can be added onto a sign or plaque, any size, for $50 to $100, depending on size. We also make engraved plaques, where we carve letters and art into a wood or HDU substrate with either a CNC router or a laser engraver (for small plaques).
For information on prices go to Price, Size, and Design Features page or Request a Estimate. Normally you will receive your plaque 3 to 5 weeks after you place a firm order and have approved a proof..Please call us at 951-698-8484 or EMAIL us at info@ArtSignWorks.com for more information on design options, price quotes, and delivery times.
To return to the page you were on, click on your back browser button. To go to a different page in the Galleries, click on a numbered text in the light gray box in the lower left margin. Other web pages can be visited by clicking on dark gray tabs at the top of this page or the gray boxes in the upper left margin.